Frankfurt School Student Consulting GmbH, or FS-SC, is the official student consultancy of Frankfurt School of Finance and Management. As of today, I am one of 75 ambitious students who not only function as student consultants to our clients but also lead all internal processes needed to keep the GmbH running.
At a glance
FS-SC was founded in 2014 and as a 100% subsidiary of Frankfurt School, the whole team is proud of the enormous amount of projects FS-SC has worked on over the last eight years, with clients reaching from start-ups to DAX 40 members such as Commerzbank to big companies such as Lufthansa and Bosch. In 2022 alone, our team achieved impressive results, generating a mid-six-figure revenue and contributing more than 7200 project hours to drive business growth. The company has become a successful consultancy, but what role do I play as a student? What can I contribute to FS-SC? Does FS-SC improve my personal abilities? And a far more important question, is it worth joining?
Joining FS-SC
My answer to whether or not it is worth joining will always be: "Yes!". FS-SC combines three main pillars that set them apart from other student initiatives: Work, Knowledge Gain and People.
First, I would like to highlight the core of FS-SC: the work as a consultant. On over 9 projects in four semesters, I worked on topics ranging from strategy projects for real estate firms to creating company pitches for a start-up. Thus, I have had the opportunity to grow with a wide variety of students for a wide variety of clients on a wide variety of tasks. As you can tell, variety plays a significant role at FS-SC. I can think of only a few opportunities to gain such wide-ranging experience in such an environment alongside student life. And yes, the pay for our work is more than just a nice touch.
Besides working with our clients, the collaboration and workshops with our cooperation partners, like Bain & Company, Roland Berger or Deloitte, are always a highlight for me. As early as my first semester at Frankfurt School, I got insights into the work of experienced consultants. I was able to deepen my knowledge in exciting topics like restructuring, presentation methods and case solving. And if all that wasn't enough, every evening ended with a joint dinner and the opportunity to network.
Last but not least: the FS-SC Community. Our internal events offer me the opportunity to chat with ambitious fellow students from all semesters as well as alumni with exciting stories about their careers. Our monthly plenary meeting feels more like time with friends than much less a business meeting. The bottom line is that FS-SC is made up of students. And what do students like to do most in their spare time?… After each event, there is a great emphasis on getting together, and of course, I would want to attend one of our annual trips to Austria for skiing or to the vineyards for a wine tour too. For example, in the first half of 2023, the FS-SC Ski trip to Saalbach Hinterglemm (Austria) and the first FS-SC Running Bar Tour already took place.
The structure
Our team consists of over 75 members from various academic programs and backgrounds and is grouped into seven departments. Each member of FS-SC is part of one of these departments and constantly contributes to the company's further development by working on internal tasks such as organising workshops or expanding existing structures. At the very beginning of my journey, for example, I worked in the Human Resources department, where I helped organise the upcoming application day before becoming one of two heads of the Marketing & Networks department in 2022.
In addition to these two departments, all fellow students get deep insights into the Project Office, Finance & Legal, Quality Assurance, Strategic Development and Information Technology departments, with all processes overseen by our two Managing Directors, who are also students.
Way more to come in 2023!
After being part of the most successful fiscal year with the highest turnover in the history of FS-SC in 2022, it feels overwhelming to see that this record was broken within the first seven months of 2023. I am more than looking forward to what will come next as all members aim to sustain the growth and bring FS-SC to the next level. In addition to focusing on our financial and professional development, we also attach great importance to the development of the community.
As part of the Buddy Program, I am always pleased to successfully welcome new members into FS-SC life, and we are looking forward to even more ambitious applicants in September 2023. Furthermore, I would like to emphasise the ongoing effort to maximise our range of workshops, expand our external awareness, create value for clients, and simultaneously support our community in their professional development.
If you are looking for more insights into the work of each department or want to learn more about our daily business and many other topics, you will find the answers to all your questions on our website. And in case there are still questions or other concerns left, please don't hesitate to contact us via LinkedIn or Instagram.
Co-Author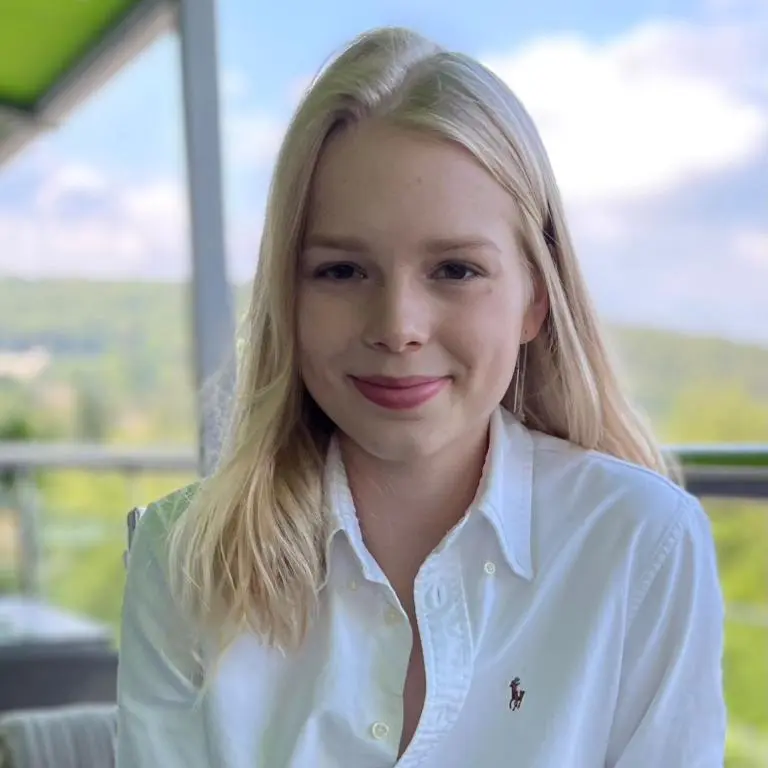 Luca Jungmann
BSc in Management, Philosophy & Economics Class of 2025

Luca is currently enrolled in the Bachelor's programme at Frankfurt School of Finance & Management, majoring in Management, Philosophy, and Economics. She enjoys engaging in sports and exploring new travel destinations in her spare time. Additionally, Luca is an active member of Frankfurt School Student Consulting, where she serves as a student consultant.