During my studies in the Master of Finance programme, I had great opportunities to always discover something new, not only gaining new and important knowledge in finance but also challenging myself. They say, " if you are not being challenged, you are not growing." I can agree with this saying. Therefore, it is important to mention that the Master of Finance programme at Frankfurt School is the perfect place to grow.
Working on real case studies presented by leading companies
Being able to work and study part-time has given me the opportunity to immediately apply classroom knowledge to my work. The wide variety of extracurricular activities helps everyone to follow the desired path of development. At the same time, as part of our studies, we work on real case studies presented to us by leading companies such as BCG, Lufthansa, Deutsche Bank, KPMG, PWC and others. However, the most anticipated part of the studies was a trip to Luxembourg for the entire intake. We deepened our knowledge about Fintech, discovered interesting things about ourselves during team building tasks, attended the lecture on one of the most important and fascinating topics of today, "Sustainable Finance", with Hakan Lucius and, of course, enjoyed the time with friends and discovered the city of Luxembourg.
Getting valuable and unforgettable ideas from great and successful professionals
The most inspiring part of the trip was the Fintech Day with the Luxembourg House of Financial Technology. It started with a speech from Luxembourg's Minister of Finance, H.E. Yuriko Backes, who highlighted the importance of this event. This was followed by panel discussions on topics such as financial services, Fintech, employment in Luxembourg and the future of talent. We heard thoughts on Blockchain Crypto, WEB 3, Fintech and AI not only from established companies but also from the CEOs and managing directors of successful startups. It was truly a once-in-a-lifetime opportunity to speak with so many company representatives from Fintech, Wireless Banking, Financial Services, AI and many more.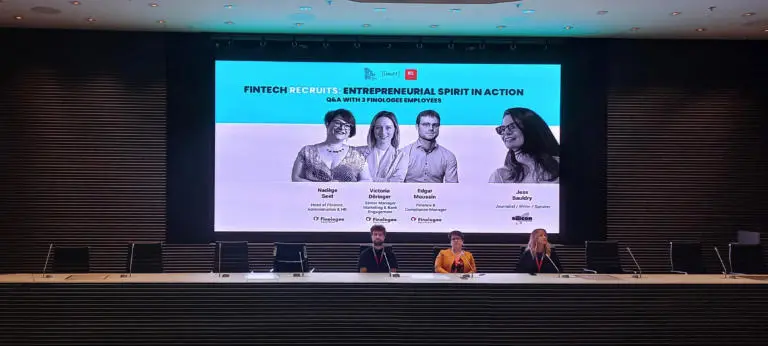 The company representatives came from HR as well as CEOs, co-founders, business leaders and simply specialists who were truly inspiring role models. Companies like Satispay, LetzPlazy and Finologee, who were also the sponsors of this event, were the most memorable to me. They not only presented their companies but also shared their thoughts on the future development of the industry. It is really valuable and unforgettable to get ideas from such great and successful professionals. In between the panel discussions, we socialised and explored employment opportunities in Luxembourg. Overall, the day was so full of groundbreaking thoughts from the speakers, opportunities, great people and a friendly atmosphere that it felt like a moment in time. With such great events, time really does fly.
Experiencing Luxembourg City
We used the next day to explore Luxembourg City. Geocaching in Luxembourg helped not only to discover the history of the city, monuments, churches and much more but also to enjoy the quiet and peaceful atmosphere. Overall, I must admit that I never thought I would consider Luxembourg as a place for future employment. Having an experience like this will really shape a person's life. It helped me to broaden my horizons, not only geographically but also in terms of career opportunities and networking.
My take on the master trip to Luxembourg
It is amazing how Frankfurt School always finds ways to push the boundaries for students and helps everyone get a unique opportunity like the Luxembourg trip. After an experience like this, you undoubtedly change the perspective from which you look at your career. Last but not least, we all created great memories and enjoyed our time together as an intake and great group of friends.