I spent my semester abroad at BI Norwegian Business School in Oslo, it is the biggest business school in Norway and the second largest business school in Europe with about 20.000 students. The campus, built in 2015, is located 20 minutes away from the city centre. As most exchange students do, I lived in the student accommodation facilities named BSN within 5 minutes walking distance from the campus. Here students live in apartments with a shared kitchen and bathroom.
I chose BI because of its good reputation and its location in Norway. Norway is one of the Scandinavian countries known for having a high standard of living and a good social welfare system. Furthermore, Norway offers beautiful landscapes and is a very good place to start outdoor activities like hiking. Another benefit of Norway is that Norwegians usually speak very good English. This results from the fact that many films and books are not translated into Norwegian because of the small number of people speaking the language.
The courses I elected during my five months abroad were Project Management, Corporate Finance and Persuasion and Dialogue for Leaders. The course Project Management gave an overview over basic Project Management methods, frameworks, agile approaches and critique. Corporate Finance mainly answered the questions how a firm should raise and use money. Persuasion and Dialogue for Leaders is a soft skills course. The main examination of the course was delivering a speech in front of a group without notes.
In my eyes, BI is easily comparable to Frankfurt School, with both being business schools in Europe that offer undergraduate and postgraduate study programs. One can find similarities in the newly built campuses as well as the teaching style. At both universities classes are quite small and tend to be more interactive and engaging.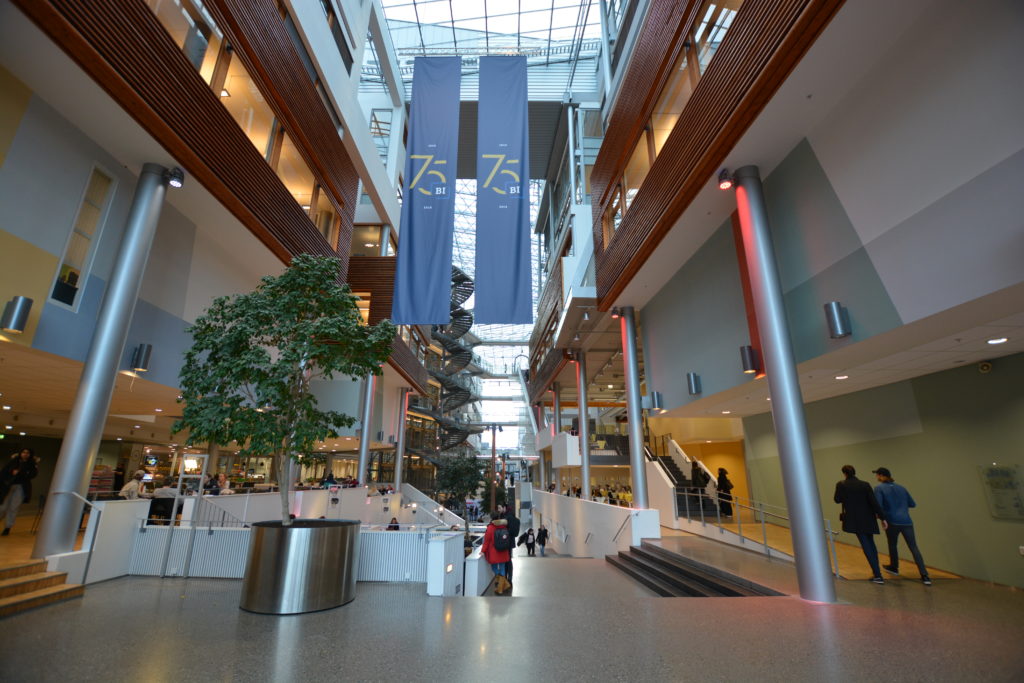 Student life at BI is manifold. In August, BI Bachelor and exchange students come together for an introduction week before the studies start in order to join a week full of informative sessions and social events.
From the middle of October onwards, most students travelled more north in Norway to see Aurora borealis also known as northern lights. Aurora is a natural light display in the Earth's sky, predominantly seen in the high-latitude regions (around the Arctic and Antarctic). Northern lights appear as green lights in the sky. It is for sure a beautiful experience and very much worth the trip. In the months before when the weather was still warm most students travelled to go hiking in order to reach the most popular Norwegian landmarks. The most popular hiking destinations among exchange students in Oslo are Preikestolen, Trolltunga and Kjerag. In December, it usually starts to snow in Oslo, providing a great opportunity for exchange students to go skiing. Unfortunately, in my year of exchange the snow arrived a little bit too late.
Although Norway does not belong to the European Union, the exchange period in Norway is supported by the Erasmus+ programme. Erasmus+ is the EU's programme to support education, training, youth and sport in Europe. Its budget of €14.7 billion will provide opportunities for over 4 million Europeans to study, train and gain experience abroad. It is set to last until 2020. For Frankfurt School students Erasmus+ mainly means that they get monthly financial support. This financial support is very helpful because Norway and especially Oslo is a very expensive region to live. Especially the prices for food are more expensive than in Germany.
Overall, I can conclude that I was satisfied with choosing BI Norwegian Business School in Oslo for my semester abroad.