Frankfurt School understands what it takes to provide an international degree very well. The school does not only offer an international environment on its own campus but also offers its students modules abroad. As a Full-Time MBA student, I attended my Organisational Behaviour, CSR & Business Ethics Module at BI Norwegian Business School in Norway. The purpose of the module was to learn about sustainable development through organisation & individual behaviour, and exploring behaviour from several perspectives. Studying the module outside of Germany gave us a chance to explore new ideas and be taught new perspectives. With continuously challenging classes on weekdays and selected electives on weekends whilst on campus in Frankfurt, the module was rightly placed to give us the right break in Norway for a week offering a mix of fun and learning.
BI Norwegian
On arrival, our host took us around on a short tour of Oslo and later in the evening organised a lovely dinner in the woods right by the lake.
The BI campus has been designed beautifully and is huge. The lecturers were extremely engaging and always open for a discussion. We learned about several Norwegian companies on their sustainable aspect and realised that the aim of being sustainable is very much penetrated in Norwegians. Not too far from Germany, Norway ranks third in the world for being able to meet the UN sustainable development goals.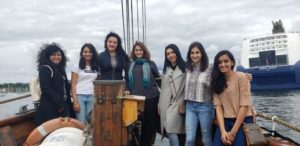 Company Visits
We visited Sopra Steria, a leading IT consulting company in Norway, where we presented our ideas and recommendations to the company on how in general to solve or improve on various current sustainability related problems and we really appreciate that the CEO took time from his busy schedule to listen to and give feedback on our contributions.
We also visited Norges Bank. Here we worked on a simulation game on Financial Investment. The game imitated a scenario where we were the Bank and we had to make global investments to generate maximum returns. The moment we entered the simulation area at Norges Bank, a huge display showed the names of the schools who had previously participated and their score rankings. So it was time for Frankfurt School to compete and what happened next is no surprise for both of our competing teams. The first Frankfurt School team now ranks 7th on the board and the second group ranks 1st! We were extremely pleased with our results!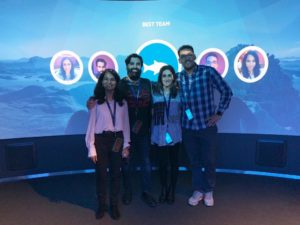 Our final visit was to Norsk Hydro – one of the largest worldwide. Our task was to present on topics related to sustainability. They already have a strong CSR team which has helped them implement several successful sustainable methods in their business. A good presentation meant that we needed to improvise and present new ideas and we succeeded in doing so, leaving a good impression. We are thankful to BI school to have let us experience this opportunity where we could present to such market leaders. After this BI Norwegian arranged a great dinner at a restaurant on the fortress in Oslo. The day ended on a very warm and memorable note.
I personally feel that I'm absolutely refreshed and charged for the next challenge in our curriculum. Definitely this module will be a memorable one for all of us as this was one of the last subjects that we had to attend as a class together. With MBA nearing an end, all of us made the most of this time and were able to enrichen our MBA current student community.