written by Mirjam Taskin & Julia Schymura
Although Germany and the US are connected by a long-lasting history, the current US president and recent developments within global politics are challenging this bond. Donald Trump rejected shaking hands with Germany's Federal Chancellor Angela Merkel. Further, he seems to spend more time on twitter than any president before – posting tweets including several German-critical statements. Only few may be able to predict what steps he is taking next. Can the relationship between Germany and the US still be categorized as a "friendship"– and should it even be one in the first place?
One answer to this question gave Friedrich Merz during our event "Germany and America – a friendship being tested". After studying law and years of being a top politician he became active chairman of the German department of Blackrock, the world's biggest asset manager. Moreover, he is chairman of the Atlantik-Brücke e. V.  and member of the Trilateral Commission. Due to his political and economic expertise, he could give a very professional point of view on the currently tensed situation between Germany and America.
Merz started his speech with a brief insight about the current situation in America with Trump being president and illustrated to what extent the relationship with Germany has changed in recent years. Although the exact consequences cannot be foreseen, America is still the best partner for Germany, he explained.
Even though the presidency of Trump has resulted in many debates, Merz highlighted that the system of checks and balances still prevents the misuse of powers. For example, in the recent past, Trump was not able to enforce any of his crude ideas in front of the parliament. This shows that American senators still refuse topics which are neither politically nor economically compatible with other nations. Some may think changing partners from the US to another strategic partner might seem a reasonable choice given the current situation of unforeseeable decisions and massive questionable criticism towards Germany. However, according to Merz, other superpowers simply do not represent appropriate partners. While the US still shares Germany's most important democratic values such as division of powers and the guarantee of human rights, this is not the case for superpowers such as Russia or China. With that said, the friendship of the US and Germany is still crucial for both nations.
Afterwards the participants were able to ask some questions, discussing the future development of Germany within the European Union, America's positioning in world politics and potential trade agreements in the Asian hemisphere.
We were delighted to welcome Friedrich Merz as first speaker of FS Economy & Politics in this semester. We want to thank him for taking the time and illustrating his perspective on the current relationship between Germany and America.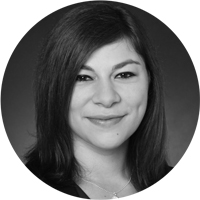 Mirjam Taskin
Miriam is a Bachelor student in Business Administration (Management, Philosophy & Economics) intake 2016 and member of FS Economy & Politics.