In order to successfully establish Remote Work in your company, a clear strategy is required. Business leaders need to analyse the circumstances and objectives and derive an approach to remote working.
We cluster the implementation in four steps:

1. Analyzing the status quo: First, every company needs to analyze the status quo and what has already been done to foster remote working. It is crucial to apply a 360°-perspective and to cover all aspects incl. technical and cultural fit of existing tools and processes.
2. Defining the vision: Following the analysis of the status quo, the definition of a target image is the next step. This describes which functions a global remote working policy should contain and contains a roadmap that describes the process on large scale.
3. Evaluating tools: After defining the vision, it is necessary to evaluate the tools available on the market to assess which are most suitable for your industry, business structure, and culture. Not only the functionalities but also the integration into the existing IT landscape should be evaluated. Based on our experience we can categorize the offered tools in three dimensions: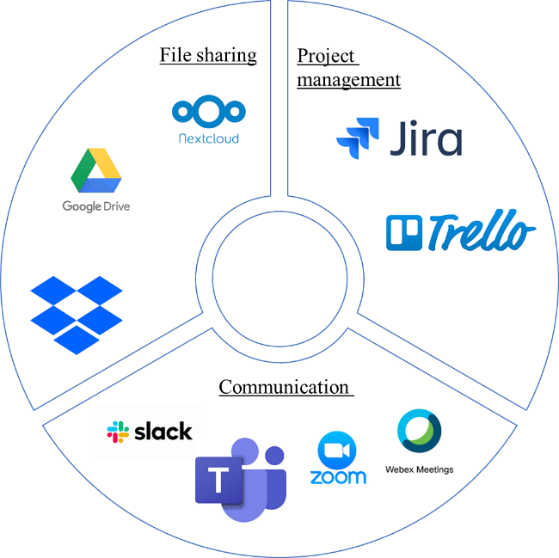 File sharing is inevitable for teams working remotely but sending files via email is rarely an ideal scenario. Often, companies use a server solution to share files and documents. This service is offered by nearly every hosting server infrastructure provider. The main difference lies in the usability and here Google Drive and Dropbox stick out.
Communication is key and it's the most challenging part of implementing remote working. Since there is no natural "coffee machine chat" anymore, companies need to push communication and culture with appropriate tools. These enable employees to stay in touch with colleagues much quicker and more conveniently. However, there are several tools with slightly different functionalities and use cases. The most frequently used tool is Slack. This tool is very useful in managing larger teams with several workstreams.
As in every project, project management is crucial for the outcome since people, budgets, and deadlines need to be coordinated effectively and kept on track for a project to meet with success. Therefore, the use of the project management software such as Trello, based on the proven Kanban methodology is recommendable to manage projects as efficiently as possible.
4. Set responsibilities: After deciding on tools that will be used, the next step is to set responsibilities for the implementation of the remote working policy. This can be based on business lines and needs or functional perspective (e.g., HR together with IT) since it affects nearly every department in your company. Advocates should also be established on a peer-to-peer level, as support for employees that the tools work for everyone.
(5.?) Follow-on training and trouble-shooting: The initial implementation process goes hand in hand with follow-up trainings. This ensures smooth implementations, allows employees to trouble-shoot concerns and share best practices amongst each other. It also helps maintain a friendly remote-working culture so employees feel this is an opportunity they are involved in, rather than a 'top-down' mandated policy.
Important steps towards a better future
We're in the midst of an evolution-gone-revolution. And the implications stretch far beyond benefiting employees and productivity. Once we're comfortable working with our teams virtually, networking and communicating with customers and clients can also benefit.
To increase sales and visibility, online panel discussions can be set up and be delivered via online platforms like Zoom. Online panels also offer immense opportunity in hiring tech-driven talent. Furthermore, video sales increases sales efficiency significantly since it eliminates travel cost and time. Hence, you can spend the time you win approaching more potential clients.
Now is the time to evaluate how remote business is working for your teams and clients, identify the pain points and develop optimized policies and practices for the future. Don't be afraid to bring in experts and set optimal policies in place now, which last and bring the best of flexibility and productivity to your business. This also allows time to focus on operational business. FS-SC and other student consultancies are pooling best practices during this time and can offer learnings to your organization, with recommendations tailored to your industry and culture.
Do you want to learn more about how blockchain will change our world? We have edited two books on how blockchain will change our society in general and the everything related to finance in particular.
Co-authors: This article was written in cooperation with the student consultancy of the Frankfurt School. For further information please click here or contact Johannes Niemann (johannes.niemann@fs-sc.de).