Written by Natalia Kourakina-Lattner and Ingrid Johnson
Working capital management, financing forecasting and planning, capital structure theories, takeovers, restructuring, mergers and acquisitions – all familiar terms for us as Executive MBA students. However, very few of us work in a dedicated finance function. The elective "Finance for Growth", first offered in May 2017 as part of the EMBA at Frankfurt School, was a welcome addition to gain a deep dive into financial frameworks and tools, with the ultimate goal of being able to discuss strategic issues with companies' CFOs at "eye level".
Broadening our knowledge about financial management in organizations was based on the perspective of a general manager rather than their finance department. Virtually, every managerial decision affects financial value creation, which was perfectly demonstrated by our two excellent professors, Stefan Petry and Simon R. Hirst.
Stefan Petry from Manchester Business School joined us for the first two days. He managed to provide us with an understandable and digestible update on Finance (starting with financial calculations before moving on to concrete business cases and simulations). Although we had extremely hot weather, not typical for Frankfurt in May, Stefan's amazing teaching style left no questions unanswered and kept us interested throughout the course. Well, perfectly understandable for someone who received his PhD from Cambridge and had been already awarded a Dean's Certificate of Excellence in Teaching from Melbourne. So basically, Prof. Petry welcomed us with a delicious entrée in the world of Corporate Finance.
Simon R. Hirst brought astonishing insights from the field. His senior level Investment Banking and Private Equity experience (Head of the European Industrial Group at Salomon Smith Barney and Global Head of M&A at Commerzbank to name a few) served with his typical British humour offered us a savoury main course. All case studies presented to us by Simon were elaborated by him personally, introducing useful tools that help to evaluate companies and to prepare for tough due diligences and M&A negotiations.
M&A is NOT as complex as it might appear
What we learned during this week is that numbers for every M&A structure can be understood within a SINGLE analytical framework. Another great thing… good news – Simon provided us with his proprietary tool which he uses himself for his global consulting projects. Of course, not the whole complex tool, but the basic framework in Excel that can be further elaborated and tailored to meet one's specific needs. Simon also provided us practical tips on different types of acquisitions / mergers, bridge financing, premiums expected by shareholders if they wish a full cash exit to name only a few. All in all, the first impression after this first deep dive in the world of M&A was that everything is feasible and that we are now well equipped to continue financial discussions with our peers from the finance world.
Finance & Fun in Frankfurt
Frankfurt is the financial heart of Germany, so it's no wonder that our recreational program included a guided tour in the city. Our guest student Thomas from Kedge in France and many other international students who are part of the EMBA at Frankfurt School had a unique chance to get to know the city's history. Apple wine testing in a special shop brought all of us closer to this unique drink and opened a completely different world of taste. And of course, we went out to some typical Frankfurt restaurants to get acquainted with the local food. Thanks to our local CRO (Chief Recreation Officer) Ben, we were able to explore a new side to Frankfurt that was still unknown, even to some people from the region.
We would definitely recommend this class as part of your elective's program. Good news for all of us, who study at Frankfurt School – we can always come back and revisit the course as part of our long-life learning deal. So, don't be afraid to give it a try! We promise that you will be well equipped after the class. To cement the acquired skills, you will have to work on a separate case study after the course. Real life, real numbers, real work are guaranteed.
About Ingrid Johnson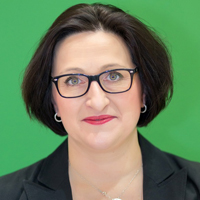 Ingrid is part of the EMBA class, graduating in 2018. Working in commercial management in a large European car rental company her major target was to strengthen financial knowledge and acquire a set of tools applicable for potential M&A within her corporation. She visited Finance for Growth in Frankfurt in May 2017.