Disclaimer: I'm actually the American-born daughter of Peruvian immigrants – but isn't that the definition of what it means to be an "American?" Take that, Donald Trump.
During my senior year at the Kogod School of Business in Washington, D.C., I shortlisted accredited master's program overseas. While I studied abroad in Rome, Beijing and Barcelona in college, I wanted to continue my path in higher education outside of the U.S. My eyes were set on attending business school in London, but as the deadlines loomed, my heart was somewhere else. Though dynamic in its plethora of culture and economic pulse, I craved to learn a new language and board onto a greater challenge, way beyond my comfort zone. Little did I know that the German language would become one of the greatest challenges I would ever embark. So, I gave up the usual Spring Break in Cabo for a riveting trip to Frankfurt to seek potential grad programs. To my surprise, it was a critical turning point in my life, resulting in the best play I have made in my career thus far.
While most of my classmates entered the job market after college, I was moving to Europe for the thrill of a lifetime. I grew in many more facets than I can feasibly explain. My first challenge was to take on German bureaucracy, head first, without speaking a lick of German; my only exposure to the German language had been aimlessly attempting to pronounce "Bastian Schweinsteiger" when watching Champions League soccer. My second challenge was to live without Tex-Mex for the next two years. Nonetheless, I found comfort in a beautiful family of international friends, who truly encapsulate what it means to be citizens of the world. The association of professionals in practice and intellectuals in research is what drives Frankfurt School to be named amongst the top business schools in Europe.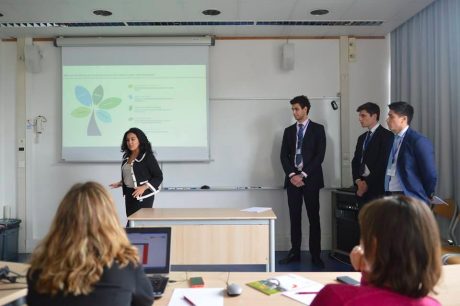 And that's precisely what drew me to the masters' programs at Frankfurt School: an international network with a profound understanding of today's business challenges, extending from students to faculty alike. In particular, the MiM program cultivates agile business thinkers and problem-solvers. Through case studies and simulations, we are trained to unravel and decode business obstacles whilst becoming proficient in problem-solving. I pride myself on my reputation of case-solving and [pitch] presentation skill set, which have been refined by my professors at Frankfurt School. FS selected me to showcase these traits by sponsoring me to compete in two Alliance of European Business Games. Alongside my FS teammates, we consulted BMW, Lufthansa, Swarovski and Nespresso. My team was a runner-up of the Google Pitch Challenge at HEC Paris and won the BDO Pitch Challenge at the University of St. Gallen; I attribute the successes to my professional formation abroad.
As a MiM student at Frankfurt School, I became business oriented and strategy-driven. My education abroad has become an invaluable edge as a Latin-American woman working in today's global marketplace. An FS master's degree symbolizes experience in a challenging environment amongst international classmates that propelled my skillset for the future. Today, I can say that I speak three languages, studied on three continents and found myself along the way.