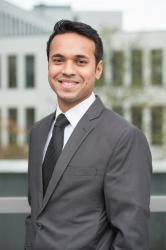 Arslan Aftab
MBA class of 2016
Enrolled in the Full-time MBA program 2015 at the Frankfurt School and belong to Lahore, Pakistan. My past academic and professional background is in the business field. My interests are to write, read, volunteer and run.
More profiles
M
As an FS student soon finishing my Frankfurt MBA, I am planning to stay in Germa ...
Joining Frankfurt School's Full-time MBA program has been one of the most crucia ...