The HEC Business Game is an annual competition that brings together students from top universities around the world to compete in solving real-life business cases. We, Lennart Schwarz from the Master of Finance programme, and Florian Schlösser, from the Master in Management programme, had the honour to represent Frankfurt School at the HEC Business Game 2023. The event took place from 21 to 22 April on the HEC campus in Paris, France. The journey was exciting as we met and competed with students from various countries and learned from each other's diverse perspectives.
People we met at the Business Game
One of the best parts of the HEC Business Game was the people we met. We interacted with over 150 students from various parts of the world, including those from Bocconi, HSG, ESSEC, Esade and TUM. We were amazed by our fellow competitors' passion, knowledge and creativity. The event provided us with a great opportunity to network, share ideas and build lasting friendships.
The procedure of the Business Game and our experience onsite
During the HEC Business Game, we were tasked with solving real-life business cases presented by well-known companies such as Bain & Company, Schneider Electric, Nespresso and Sysnav. We had 2-3 hours to solve each case and then had to pitch our solutions to a panel of judges. Our team consisted of six members, and for each case, we were paired with two new members. This allowed us to work with different participants and learn from their diverse perspectives.
Apart from solving cases, we also had time to enjoy Paris and the HEC campus. We had pizza and beer on campus on Friday evening, sponsored by AB InBev (Corona). On Saturday, we had a cocktail dinner at a chateau and then headed to the Duplex Club in Paris for a night of fun and networking.
Our successes and the evening events
We are proud to say that we performed exceptionally well in the HEC Business Game 2023. We won the Bain Case Study, came second in the Sysnav Case Study, took third place in the Schneider Electric Case Study and were in seventh place in the Nespresso Case Study, all out of 22 teams. In addition, we won the overall victory of the business game out of 64 different pairs, earning us a prize of EUR 1000.
Apart from the business game itself, the evening events were also a highlight of our experience. We enjoyed great food, drinks and music at the cocktail dinner, and the party at Duplex Club was also fantastic. We interacted with our fellow competitors, shared our experiences and built lasting friendships.
Conclusion
In conclusion, the HEC Business Game was a great experience for us. We learned a lot about solving real-life business cases, interacted with amazing people from all over the world and had a great time in Paris. We highly recommend the HEC Business Game to students seeking a fun and challenging experience.
During our trip to Paris for the HEC Business Game, we had the chance to explore the city for a few hours on the day we arrived. We spent six hours walking around the city, taking in the sights and soaking up the culture. One of the highlights of our visit was our trip to the Eiffel Tower, where we were treated to an incredible view of the city. Afterwards, we stopped for a coffee at a quaint little cafe nearby, where we enjoyed some delicious French pastries and coffee. It was a great way to kick off our trip and set the tone for the exciting days ahead.
Paris is a beautiful city, and we were glad to have the chance to explore it, even if it was just for a few hours. We were amazed by the city's history, architecture and art and left with a greater appreciation for French culture. Overall, our experience in Paris was fantastic, and we hope to come back someday to explore more of what this incredible city has to offer.
Co-author: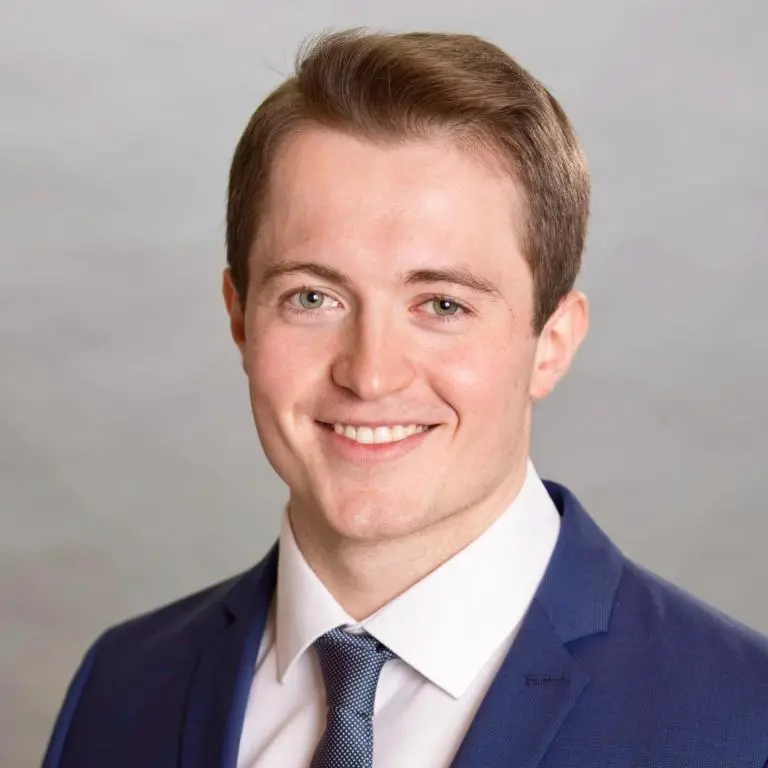 Lennart Schwarz
Master of Finance Class of 2024
Lennart is currently completing his Master of Finance at Frankfurt School and has already gained some practical experience in investment banking. Before that, he completed a dual study programme in business informatics and has already worked for almost 2 years in the IT department of a corporate group.