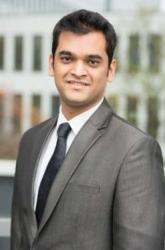 Abhishek Gupta
Programme Coordinator
Abhishek Gupta is Programme Coordinator working in Frankfurt School Development Finance e-campus since August 2015. He also graduated from Frankfurt School of Finance and Management with an MBA in 2016. Currently, he is working on launching a new e-learning course in Digital Finance.
More profiles
Digitalization is a stepping stone towards forth industrial revolution. Differen ...
Starting studies again while working full time can be a daunting task whether th ...