Finished with the EMBA = finished with learning?
After 18 months of dually working and studying in the EMBA classes, my first thought after handing in my thesis was that I would now take the time to make up on lost spare time, foster my friend- and relationships and not think about further education for quite some time. But … I should have known better …
… because learning never ends …
So however, after some time of relaxation and recharging, I was pleasantly surprised and immediately intrigued when Markus, the Executive MBA Programme Director, announced the concept of Lifelong Learning in the FS EMBA during the March 2016 EMBA Reunion. On one hand, I had had such a great experience during my international elective at CEIBS in Shanghai that I would definitely take the chance to participate in another elective again; on the other hand, since the curriculum of the EMBA is ever evolving, some of the modules' content had completely changed since my class' graduation. I immediately had some modules on my list that I would want to participate in. To cover all the essentials of general management in a fast moving environment, it is great that the EMBA constantly selects and adapts its modules. With the Lifelong Learning concept they assure an up-to-date management education for their EMBA-Family members. While Frankfurt School provides full course documentation to Lifelong Learning guest students, it is not expected that assignments are handed in. However, it is expected that oral contributions during class are limited as the current cohort is graded partially on their contributions.
Take your chance: learn, linger, laugh with the EMBAs!
I finally took my chances and enrolled in the Ethics & Entrepreneurship module this year – on the one hand since Entrepreneurship was not taught during my class and other the hand since I had especially enjoyed the Ethics lessons. Therefore, I had the chance to refresh some of my knowledge and learn new concepts as well as network with the students from the current class, some of whom I had already gotten acquainted with during the Executive Talks. During class, joint lunches and dinners and a wonderful social event during the Hamburg leg of the module, I had the chance to get to know the current EMBA classmates better and to engage in interesting talks. Although the current class is a very close and coherent group, I was immediately welcomed warmly – also for some extracurricular activities.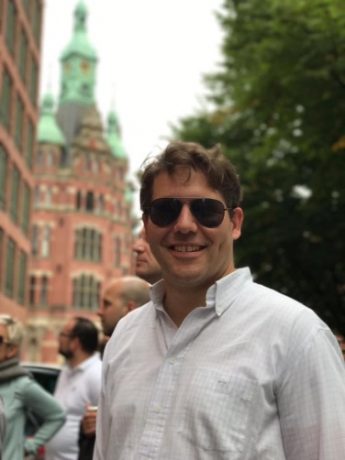 I'll be back
I can only highly encourage my fellow EMBA graduates and anyone who is willing to take the chance & challenge, to join the Lifelong Learning experience: It is a perfect way to keep up to date on relevant topics as well as to expand your network by meeting other EMBA students from all around the globe and various industries – I will be definitely back next year.