When I decided to take part in the Building a Start-Up elective module, I never thought that it would have such a strong impact on me. The lecturer, Mr. Carsten Lebtig, is an entrepreneur himself. He is Founder & CEO of a company called Sanubi, holds an MBA from Kellogg School of Management and worked for McKinsey & Company before. On top of that, he is General Manager of Uber Eats in Italy. What struck me particularly was the high level of support, committment and availabilty by the lecturer. Fittingly, the first sentence on his course outline was: "I suggest that you rest a lot before we start our class, because it is gonna be intense!" Indeed, I never experienced such an insightful and mind-shaping course. We learned by mind-storming, planning and actively doing things: "Entrepreneurship is a mindset. It's about action, it's a process and more than just starting a business."
Surprising facts and hidden challenges
The idea to think of a new business, to develop it within 48 hours and then pitch it to investors, felt unlikely to me at first. However, when we were raising money by day four of the module, we felt like we were running a real business. What was particularly impressive to me, was the influence the module had on my way of thinking: For instance, a the beginning, I was skeptical whether I even had the skills to start a business. However, after this busy and entertaining week, I noticed the change in my attitude and mindset. Getting fully involved in the project, helped me realize that everything is possible.
Biggest take away and personal relevance
Listening to many successful guest speakers in class was very inspiring and showed us how much potential there is. Many of them left safe jobs to start their own start-up, some already sold their company for large profits and others are still working on their success story. "Start-Up" and "Entrepreneur" are words I never associated with myself. The experience of this module has challenged me and changed that. I stepped out of my comfort zone and understood that everyone, including me, can be an entrepreneur.
Advice to future MBA Students
For me, taking part in this module was a uniquely enriching experience – a lottery win of sorts. I really enjoyed the learning process and certainly recommend it to MBA students next year. If you are starting your MBA programme at Frankfurt School, my advice would be: Don't be afraid and push yourself to find the hidden entrepreneur within you. Given the many options offered by Frankfurt School, choosing the ideal elective module can be challenging. Many interesting topics are available, but it is impossible to attend all of them. So choose what adds the most value to your personality and knowledge.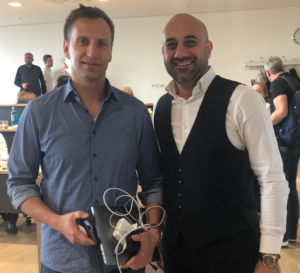 Last but not least, I would like to thank Mr. Lebtig for the hands-on agenda and great team experience.