In September 2021, I enrolled as a Master's candidate for the Master in Data Analytics & Management, a part-time Master's programme for professionals in parallel to their regular work. Along with a diverse group of professionals and experts, we are the first cohort of this master's programme to explore digitalisation in corporate management.
In December 2022, I published my first book as a translator. The book is a Chinese-translated version of "Molecular Aesthetics", previously published by ZKM Karlsruhe through the MIT Press. When I first joined Frankfurt School community, I was still closely involved with ZKM and the Beijing Normal University to finalise the translated version and go through the legal details of the publication.
The start of my journey as an author
Frankfurt School is a creative and inspiring community that attracts and retains diverse experts in different industries and experiences. One of the most attractive aspects of the programme is you are able to get in touch with a wide group of people and get to know their life journey through the programme. My journey with this book started as a high school student. Peter Weibel, who was the Chairman of ZKM Karlsruhe and the co-author of this book, gifted me the book. I was deeply attracted by the book's content, how humans can see through the world via a different lens with the advancement of technologies and how this advancement reshapes our values and experiences as well as how we proceed as art.
I started translating the book when I was 18, but this process was not easy and smooth. The interesting part of translating and publishing a book over a lifespan of years is that you have the opportunity and the luxury of time to go back and review the work you have already created.
Exploring my learning journey in the programme and its relevance to my role as an author
Interestingly, my experience in the programme taught me a lot of new things, as well as nurtured new experiences. From a technological and theoretical perspective, the knowledge of artificial intelligence and big data matches very well with the "transcriptive journey" that the book expresses, in parallel with how to convert chemical findings into artworks. From a management perspective, the understanding of the human dynamic of a team or company also inspired me to explore how the constantly changing social structure and knowledge dynamic can also influence how we view and critique an artwork over time.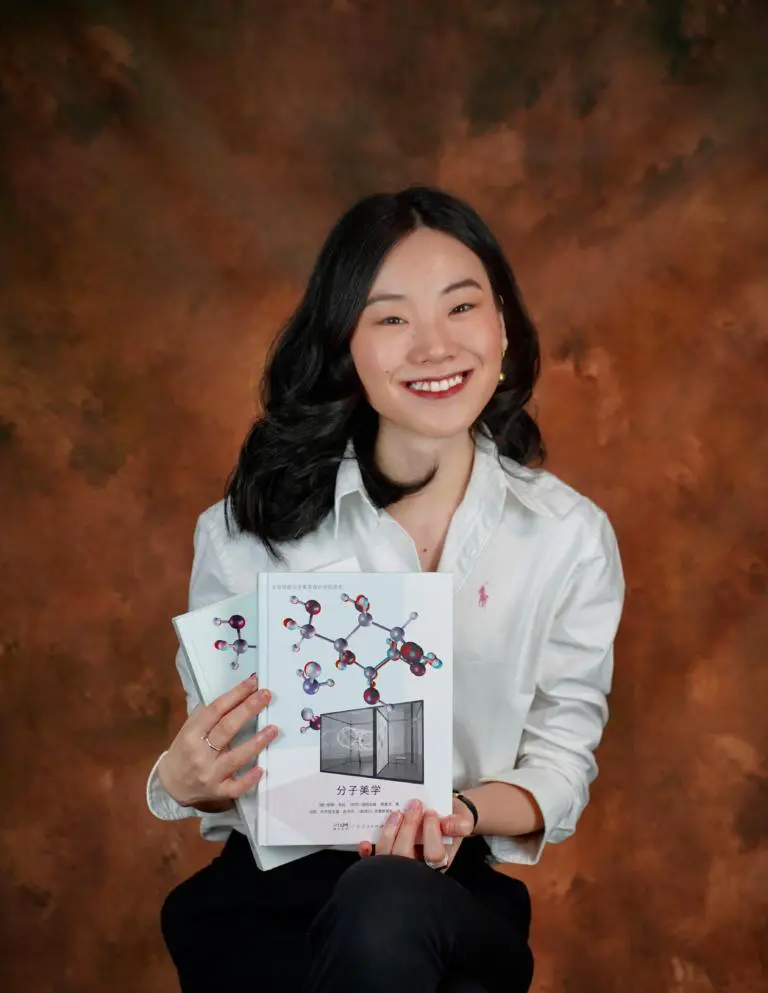 What I have learned from these journeys and my advice on career development
In the past two years, I have had multiple roles on my shoulder. Beyond the fact that I am now an author, a marketing manager, a LinkedIn creator and a Master's candidate, my time at Frankfurt School also witnessed me moving from the greater Frankfurt area to Munich, transiting from one industry to another (which I have explained in my other FS blog post). It means that the past two years have not been easy, given that we have so much that we want to achieve yet so little time. How to manage our own time and set priorities has always been a core question that every single one of us is trying to deal with. Here are a few tips:
Always being curious about the world – Curiosity is very powerful, and keeping yourself curious is so precious as a unique skill set. Curiosity is also the nutrition of passion. I believe if I am not so curious about the external world and keep up myself with learning, it is not possible for me to squeeze time and get many things done in parallel. Curiosity is important not just because it can help us to complete difficult tasks but also to empower us to do things constantly.
Set priorities and be open about your goal – It is nearly impossible for one to get everything done perfectly because time is a limited resource for everyone. Therefore, it is important to set up priorities and goals and have a clear vision of your plan. More importantly, be open to sharing your goals with your peers. It will help you to find the right helping hands to achieve more.
Thank you to Frankfurt School for providing me with the opportunity to celebrate and share my experience of having my first book published under my name. And I wish to finish this with a quote from Robert Browning: "Ah, but a man's reach should exceed his grasp, or what's a heaven for?"