To remain competitive, companies must engage intensively with digital innovation. But the challenges involved in developing and adopting digital innovations appear to be very different from those posed by previous innovations. This is why prevailing procedural models of organisational adoption do not go far enough. Blockchain is one of these digital innovations. Blockchain's distinctive characteristics indicate that its implementation is challenging in ways that differ from preceding technologies.
This raises questions about the best ways to structure organisations aiming to adopt blockchain. Who will analyse how best to use blockchain for existing processes? Who in the company will be responsible for developing prototypes? Who will coordinate the development of an in-house knowledge base on blockchain applications?
Blockchain adoption is falling behind
While technological innovations usually bring about significant improvements in efficiency and effectiveness, their introduction poses major challenges. It is no coincidence that the "adoption" of new technologies is a key area of interest in business informatics.
Blockchain technology is an emerging digital innovation. The disruptive nature of blockchain technology is particularly relevant to business models. The list of industries affected is long, ranging from financial services to healthcare through to energy. Despite blockchain's promising potential and many use cases, it is clear that adoption is not living up to expectations. Many questions remain unanswered, and numerous issues associated with blockchain's scalability, cost, absence of standards and ongoing volatility as a transaction currency remain unresolved.
Five factors are vital for organisational adaptation
To identify the organisational challenges involved in adopting blockchain, we carried out an analysis on the basis of eleven expert interviews with innovation and operations managers in the financial sector. The numerous factors identified as playing a role in adoption may be bundled into five groups, as follows:
Technological factors: blockchain's performance; specification of "off-the-shelf solutions" based on blockchain systems
Organisational structure: adaptation of workflows and responsibilities; team composition and teamwork
People: perceptions of the new technology and development of the skills required to use blockchain
Project management: coordination of the various measures required to implement blockchain
Business environment: further development of blockchain (including ongoing standardisation) by consortia; development of new use cases with partners
The figure below shows the framework on which we based our research project.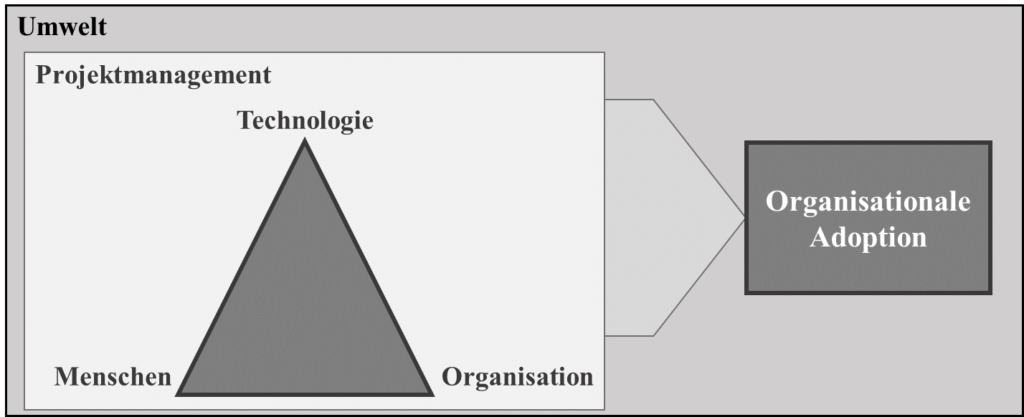 Recommendations for action
Blockchain can only be implemented successfully if management selects the most appropriate measures for organisational adoption. In our research, we were able to identify numerous factors. Frequently, however, these factors do not pull together in a single, unified direction – ultimately, the interplay of different factors must be carefully balanced and calibrated using a variety of different strategies. There are areas of conflict in, for example, the distribution of responsibilities on the business side vs. the IT side, as well as in the development of in-house applications vs. joint development with partners.
The key conclusion is that management must use these factors to determine which measures should be taken on the company's behalf. While the factors identified exert their influence for the most part independently of the company itself, it is nevertheless essential to tailor adoption measures to suit the company. In other words, in addition to finding a technologically appropriate solution for blockchain, the relevant organisational measures must also be given higher priority. A suitable approach for each company should be based on a combination of technological and management considerations. At the same time, management may also choose to address individual factors on a step-by-step basis, rather than dealing with them all using a single, all-embracing approach.
Organisational adoption is a complex process consisting of technological innovation and change management, the start and end of which are both very difficult to define. Furthermore, companies are always at different stages of organisational adoption – a consideration which management must bear in mind when deciding which measures to take.
Further information
You can find out more about the above-mentioned analysis in an article with the same title by the authors published in the journal "BIT. Banking und Informationstechnologie".
The conference "Process Automation: from Smart Processes to Smart Companies" provides a platform for sharing information on the ongoing development of business processes in banks. In particular, the event will focus on how new technologies such as blockchain and artificial intelligence can be used to make institutions more efficient. The conference is organised by ProcessLab, part of Frankfurt School of Finance & Management.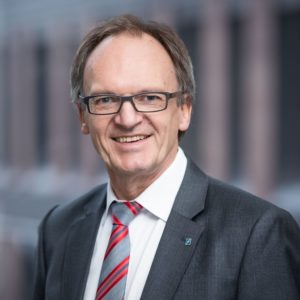 Co-Autor
Jürgen Moormann, Professor for Bank and Process Management at Frankfurt School